The Engineering department is managed by Aaron Fukuda, District Engineer and is assisted by Joe Mello, Engineering Technician. The Engineering department oversees the development and construction of District facilities, grant application and administration, review of engineering plans, specifications and right-of-ways and oversees certain state and federal compliance issues.
District Standards and Specifications
District Standards - Pending
District Specifications - Pending
District Capital Improvement Projects
McKay Point Reservoir Project
The Tulare Irrigation District, along with the Consolidated Peoples Ditch Co. and the Visalia & Kaweah Water Co. (Owners) own approximately 500 acres at McKay Point. The Owners intend to develop approximately 120 acres of the property into a surface water reservoir of approximately 4,500 acre-feet in storage capacity.
For project details please visit:
www.mckaypoint.com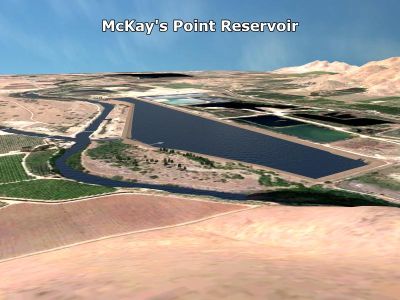 USBR Part III Grant - Recharge Project
The NRDC v. Rogers Settlement and San Joaquin River Restoration Program brought with it a federal commitment to secure $50 million in grant funding, over time, to pursue local water projects to mitigate for Settlement impacts. The first $10 million of these grants funds were made available in 2013 to Friant districts, and Tulare Irrigation District was awarded a grant in the amount of $1.95 million.
With this money and matching District funds, the District intends to:
Construct a 60-acre recharge basin next to the existing Enterprise Basin. This recharge basin will be a partnership with the Kaweah Delta Water Conservation District.
Conduct a study and prepare a plan for long-term expansion of existing recharge facilities within the District.
Propose and implement a long-term exchange program within the Friant Division to gain more imported water for conjunctive use recharge operations within our service area.
Utilize federal grant funds to purchase water in pursuit of the exchange program.
Swall Basin (Plum) Project
The City of Tulare and the Tulare Irrigation District have been working for several years on cooperative ways to manage the expanding community of Tulare and the impacts on canals and groundwater consumption. Working together the District and the City purchased 155 acres located approximately 5 miles northeast of the City at the southwest corner of Avenue 256 and Road 132 to be developed into a groundwater recharge site. The location of the property made this an ideal candidate for groundwater recharge upstream of the City and also provided for close proximity to a District facility, the Main Canal. After the site was acquired Provost & Prichard Consulting, from Visalia, Calf. provided a design and environmental permitting to move the project towards construction.
The District along with the City sought and successfully acquired several grants to assist in constructing this project. The grants that were secure included:
2009 USBR WaterSMART Grant: $300,000 (Phase I)
2010 USBR WaterSMART Grant: $300,000 (Phase II & III)
2011 Integrated Regional Water Management Planning Grant: $1,150,000.00
The construction of the basin was undertaken by District staff and began on Phase I of the project in May 2010 and was completed in March 2011. Phase I was completed and put into service in the Spring 2011 to take advantage of recharge water that was available to the District. Phase II and II began in April 2011 and was completed in June 2013. District staff worked diligently on the project while still managing irrigation and flood operations and addressing typical operations and maintenance issues around the District. District staff performed construction tasks that included large quantities of excavation, compacted embankments, grading, concrete structure installation, pipeline installation and SCADA installation.
The Swall Basin represents approximately 135 acres of additional recharge basin that the District can utilize in meeting a benchmark of 10,000 acre-feet of recharge on behalf of the City. This basin represents and urban/agricultural partnership not often found here in the San Joaquin Valley. Both the District and the City are acutely aware of the importance of water to our community and region.